The Lamy Studio is both elegant and sleek. Characterized by a sharp design, unique details, and smooth performance, this fountain pen provides a comfortable and memorable experience for any consumer. When combined with its reasonable price tag, it becomes an ideal pen for anyone looking to advance past their beginner pen and make a statement while remaining within a budget.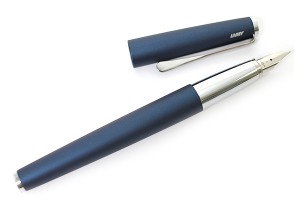 Specs
• Model number: L65F
• Weight: 4 ounces
• Dimensions: 6.1 in. x 0.4 in. x 0.4 in.
• Nib size: Fine
• Nib material: Stainless steel or 14 karat gold
• Detailing: Hooded nib on some models, logo imprint, chrome highlights, propeller-shaped clip
• Ink color: Silver or black
• Pen color: Black, blue, red, green, silver
• Ink refill: Cartridge
REVIEW
The Lamy Studio fountain pen is a reasonably-priced step up from beginner fountain pens. Its low price tag, however, is belied by its superior appearance and solid performance. The appearance of the pen rivals the most expensive models with a sleek metal barrel and chrome accents against silver or black. The result is a pen that looks professional and promises a rewarding writing experience. The pen's design stands out from the competition with a black grip section and a propeller-shaped clip that makes it easy to fasten to a shirt pocket or piece of paper. The 14-karat gold nib comes hooded for an understated feel. The result is a pen that looks appealing and promises to deliver on performance.The only downsides to the design are that the pen is a little bit heavier than average. The result is that consumers who are not prepared may find it surprising to handle a pen of that weight. In addition, the cap may not fit as tightly on the top as may be preferred.Overall, however, the pen possesses a stunning design that is almost universally lauded.