The Rotring 600 is a medium-priced fountain pen produced in Germany and known for its durability and design. Intended to withstand heavy usage, even in the air, and possessing a unique contemporary design, the Rotring is the ideal pen for anyone looking for a workhorse pen with an elegant appearance.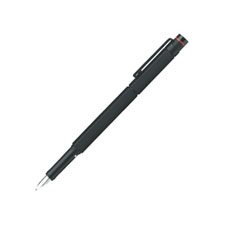 Specs
• Model number: RO_48678
• Weight: 5.6 ounces
• Dimensions: 7.5 in. x 2.6 in. x 1.2 in.
• Nib size: Medium, Fine, or Extra Fine
• Nib material: Stainless steel or gold
• Detailing: Heavy design, hexagonal barrel, knurled grip, postable cap
• Ink color: Black
• Pen color: Silver
• Ink refill: Cartridge or converter
The Rotring 600 is a German fountain pen that stands out from the competition primarily because of its design. This pen receives accolades because of its unusual design that includes a hexagonal barrel and rounded cap and body. The unusual nature of the design, however, does not diminish its sleek, contemporary appearance that make it both recognizable and appealing. Because the body is constructed solely of metal, the pen is heavy. At 5.6 ounces, it is noticeably hefty, and may feel unbalanced when the cap is posted. When the cap is left unposted, however, the pen balances nicely in the hand despite its weight, and makes up for any discomfort with its desirable appearance. In addition, its knurled grip makes it easier to hold and less likely to slide in the hand.
Because of its heavy construction, the Rotring 600 is also known for its durability. The pen's metal body makes it difficult to damage. In addition, it possesses unique technology that make it usable even in the air. This technology, called Air Pressure Compensation, or APC, prevents the air pressure in the plane from causing the pen to leak. As a result, the Rotring 600 may be used almost anywhere the consumer desires, even while traveling. The pen's performance, while not as lauded as its design and durability, meets expectations for a pen within the medium price range the Rotring 600 inhabits. For instance, the nib writes smoothly and consistently, with an appealingly wet line. However, the consumer will be able to feel the nib moving across the page. In addition, the pen lays down a line that some consumers may find not fine enough for their liking, even when using the fine nib. As a result, this pen works best for consumers who do not like a super fine line when writing and who do not expect a luxurious feel as they use their pen.
The Rotring 600 is ideal for sketching of all kinds. In addition, its durability and solid construction make it a good choice for anyone who uses their pens heavily, uses them while traveling, especially while flying, or who, for any other reason, might need a pen that can withstand heavy usage. As a result, engineers, architects, and traveling businesspeople should consider adding the Rotring 600 to their regular rotation of reliable and durable fountain pens.