Found on our Top List of Recommended Fountain Pens, Style, size, and reliability define the Cross Century II Medalist fountain pen. Built on the model of the earlier model of the Classic Century, this incarnation adds to the line an elegant design and excellent ink flow a wider body and nib. The result of this new combination is a pen that offers consistent performance, a beautiful appearance, and easier, more comfortable handling.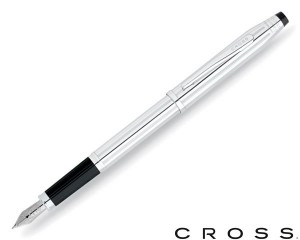 Specs
Model number: 2509-MF
Weight: .8 ounces
Dimensions: 5.3 in. x .4 in. x 5.3 in.
Nib size: Medium
Nib type: Rigid
Nib material: 23 karat gold
Ink refill: Cartridge Refill
Detailing: 23 karat gold
Ink color: Black
Available Pen colors: Platinum (Picture) & Black
Packaging: Gift box
Warranty: Lifetime warranty covering the operation of the pen
The Cross Century II combines a classic style with a modern size and detailing. This pen is based upon Cross' Classic Century pen, which boasted elegant lines, beautiful detailing, and a thin form. As such, it adopts the Classic's basic shape and maintains the same level of reliability and smooth ink flow as the Classic. The pen provides a steady flow of ink that will keep up with even the fastest writing. The only downside to the ink flow is its wetness, which can create smudging problems if it is touched or jostled while drying.
Instead of a thin body, the Cross Century II boasts a wider base and a fine nib. These features make the pen more comfortable to hold and offer a different writing experience than the Classic. The result is a pen that caters to the writing needs of a wider group of people and can serve in a wider variety of writing task. In addition, the pen offers an updated look that includes 23-karat detailing. The nib, which is also made of 23-karat gold, adds to the pen's overall beauty, and contributes to its overall modern look. The result is a versatile pen with a 21st-century look and the performance of a tried and true classic.
This pen is ideal for anyone looking for proven performance but an up-to-date look. In addition, the wider size of the pen makes it ideal for anyone with larger hands or desiring a more comfortable grip on the pen. The medium nib makes the pen a good fit for those who engage in a variety of writing or who need the pen for everyday use instead of work that requires the precision of a finer tip.
For more information about the Cross Century II, check out the unboxing and review video below: