Steadiness and dependability define the Sheaffer 300 fountain pen. Elegant combinations of color, lots of trim, and a cigar-shaped body make this pen look balanced, bold, and appealing making it one of the best fountain pens on the market. At the same time, its large size and heavy weight make this pen comfortingly solid. Its ability to work right out of the box and perform consistently over the long term make it a truly rewarding purchase.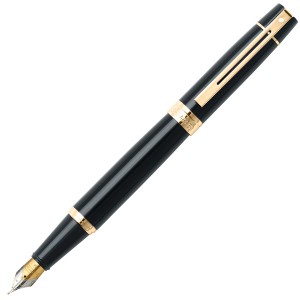 Specs
Weight: 8.8 ounces
Dimensions: 7.3 in. x 2.8 in. x 1.8 in.
Nib size: Medium
Nib material: Stainless steel
Ink refill: Converter or cartridge
Detailing: Chrome trim, engraved nib
Ink color: Black or blue
Pen color: Glossy Black, Iridescent Red, or Iridescent Blue
Packaging: Gift box
Included items: Black cartridge, blue cartridge, piston converter
The Sheaffer 300 stands out from the competition primarily because of its shape and size. The pen possesses a cigar shape, which other finer pens also have. However, this particular pen boasts a larger, wider shape than many other competitors. Its larger size also translates into more trim. The result is a pen that fills the hand comfortably while looking appealingly bold. In addition, the Sheaffer 300 is weightier than many other pens. The extra size and weight make the pen feel well-balanced, even in smaller hands. The only downside is that the heaviness can create hand fatigue over time for some people, and posting the heavy cap on the pen can make the pen feel a bit top heavy and awkward.
Despite its size and heaviness, the Sheaffer 300 is ideal for regular use because of its steady and reliable performance. The pen's nib writes smoothly, and the pen provides a consistent ink flow right out of the box. There is virtually no skipping or scratchiness, and the user can barely feel the nib traveling across the surface of the paper. Its performance persists over long writing sessions and consistent use, making this pen a reliable working instrument for those who want functionality in addition to elegance.
The heaviness and large size of the Sheaffer 300 make it a good pen for those who have larger hands or who want to really feel that they are writing with a quality pen. It is also ideal for those looking for a reliable pen at a mid-range price. The pen's suitability for everyday use make it an appealing option for those who write often or who are looking for a reasonable combination of appearance and function.