The Waterman Expert fountain pen boasts a gorgeous design, well-built nib, and beautiful finish. Its black lacquered body, gold trim, and stainless steel nib testify to its stylish French origins and set it apart from the competition in the area of look and feel. The result is a pen that looks expensive, feels luxurious, and is ideal for use in even the most elegant settings.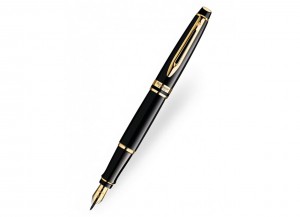 Specs
Model number: S0951660
Weight: 5 ounces
Dimensions: 6.9 in. x 1.6 in. x 2.8 in.
Nib size: Medium
Nib material: Stainless steel
Ink refill: Converter or cartridge
Detailing: Gold trim, black lacquer finish
Ink color: Black
Pen color: Black
Warranty: 3 year international warranty, 2 year extended warranty after registering the pen with Waterman
The Waterman Expert fountain pen distinguishes itself from other, similar fountain pens by its stunning appearance and build. This pen benefits from the expertise of the Waterman brand, which was founded in the late 1800s by one of the industry's most brilliant inventors. It boasts a cigar shape that makes its heavy weight easy to hold. Its stainless steel nib is of the highest quality, and the entire pen is designed to last for a lifetime, even when used heavily and daily. Waterman backs its design with a lengthy, three-year international warranty. In addition, its durable body and comfortable feel make it ideal for writing day in and day out.
The Expert also boasts an elegant appearance. The pen is designed with an eye-catching black lacquer finish that creates an exquisitely luxurious feel. The gold trim and simply decorated stainless steel nib complete the look. The pen is perfect for showing off on an executive's desk, and makes an ideal gift. While beautiful, the nib does occasionally become blocked by ink, and does not function as reliably as could be hoped for. However, careful maintenance of the nib and proper storage can help to minimize scratchiness and dryness when using this beautiful pen.
The Expert is perfect for anyone wanting a fountain pen that will draw attention. Its bold shape, combined with the contrasting black lacquer and bright gold trim make it a pen that will stand out among any other fountain pen. This pen, therefore, makes a wonderful gift, a good choice for high-powered executives and anyone else looking to both show off and regularly use their fountain pen.
For more info watch the unboxing of the Waterman Expert Fountain Pen in the video below: