The Faber-Castell Basic is a reliable workhorse of a fountain pen that comes at a reasonable price. Its $40 price tag belies its solid build, elegant design, smooth writing, and overall good quality construction. Its carbon fiber construction and distinctive design make it durable and beautiful, while its low price tag and overall pleasing performance make it a good choice for anyone looking to mix quality and affordability.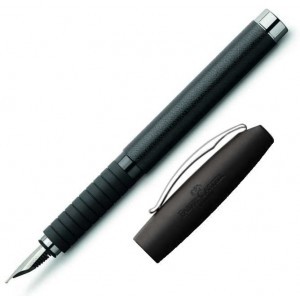 CLICK TO VIEW CURRENT PRICES/DISCOUNT
Specs
• Part number: FC148820
• Length, unposted: 5.25 inches
• Length, posted: 7.5 inches
• Nib size: Fine
• Nib material: Stainless steel
• Detailing: Branding, variety of finishes, detailing on barrel, wide cap, silver accents
• Finishes: Polished metal, matte chrome, black carbon, black leather
• Ink color: Black
• Pen color: Black
• Ink refill: Cartridge converter
REVIEW
The Faber-Castell Basic fountain pen offers consumers the experience and reliability of Faber-Castell's more than 250-year history of creating fountain pens at an extremely affordable price. Despite costing less than $50, these pens bear the quality and performance of more expensive pens, and therefore make an appealing choice for beginning fountain pen enthusiasts and those who know and love fountain pens and wish to add to their existing collection. The Faber-Castell Basic bears the same shape as the company's other fountain pens: A large pen cap and elegant design that make the pen an appealing choice for men and a pleasant addition to any office or desk. The look of the pen is completed by etched designs along the barrel, and a variety of finishes from which the writer can choose.

In general, the Faber-Castell Basic receives positive reviews for its performance. The pen comes with a fine nib that mimics the narrower Japanese fine nib rather than the slightly wider European fine nib. In addition, despite its low price tag, it is reported to write reliably, with a wet line and a minimum of scratching and skipping. The stainless steel nib does not stand out for its design, but the smooth performance tends to make up for any lack in pizzazz. In addition, the Faber-Castell boasts a larger than average area on the nib where writing is easiest and smoothest. The only reported downside to this pen is a lack of balance that makes the pen too long and difficult to handle when posted. The excessive length also tends to emphasize the heaviness of the pen, making it less comfortable to hold when posted. As a result, the consumer should plan to write with the pen unposted for maximum usability and comfort.