As you may have seen from our other articles, some people are willing to spend a ridiculous amount of money buying extremely well crafted pens made out of gold, diamonds, and other precious materials. But let's be realistic! Most of don't have that kind of money to blow. What many people are looking for when they buy a pen is the cheapest one that will work.
If you're anything like us, you probably lose at least a couple of pens each week anyways, so there's not point in spending any more for a pen than you need to. Perhaps your office needs supplies and you were the lucky one tasked with finding and buying cheap pens. Well whatever your reasons are, the good news is that we've done a lot of the work for you. We have researched and compiled the list below of the best pens under $0.50. What you will find as a general rule is that like pretty much all other products, the more you can buy pens in bulk the cheaper each pen cost. However, we warn you to be weary, as we did find in our research that this is not always the case. Take a look at our findings and know that we feel confident that you'd be hard pressed to find anything cheaper than the pens below.
***Prices can fluctuate. The prices listed here were accurate as of the date of this post
The Absolute Cheapest Pen: The Bic Round Stic Ball Pen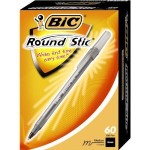 The title of World's Cheapest Pen goes to this little guy here. The Bic Round Stic Ball Pen. At just under  $0.09 a pen, this little guy is available for practically a still. Each pen should be more than it's weight in ink. For just 9 cents you get a pen which is boasted to be handle over 1.25 miles in writing. Buy a sixty pack of these and you should be good for a long while (75 miles worth to be exact!). Besides just it's price point, another good thing about this pen is that it is made by the well known pen manufacturer Bic.
The Best Cheap Pens: The Bic Clic Stic Retractible Ball Pen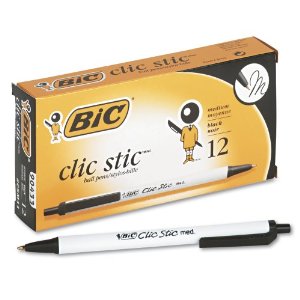 While the round Round Stic might hold the title for cheapest pen, the Bic Clic Stic Retractible Ball Pen hold the title for "Best" cheap pen. If we are defining "cheap" as costing under half a dollar (which we are), and defining "best" as highest customer rated, then this is the clear winner. Let's face it, often times you get what you pay for. Retractable pens are usually more sturdy and last longer than their non-retracting counter parts. Plus the retractable feature is overall just more convenient. This clearly is one of the many reasons why the Clic Stic is the highest rated pen under $0.50. Click on it and read the reviews. If in your search for cheap pens you are looking for the best combination of an affordable price and quality, then look no further.