Excellence and attention to detail permeates every aspect of the Lamy 2000. One of the most well-regarded fountain pens on the market today, it boasts unique material, superb design, and excellent performance. As a result, it appeals to a wide array of consumers looking for understated elegance and superior design.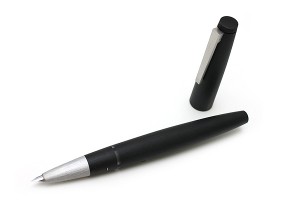 Specs
Model number: L01F
Weight: 4 ounces
Dimensions: 1 in. x 1 in. x 1 in.
Nib material: 14 karat gold
Detailing: Hooded nib, fiberglass barrel, sleek lines, invisible seams
Ink color: Black
Pen color: Black and silver
Ink refill: Piston
Included items: Elegant box
The Lamy 2000 stands out from the competition because of its unique design and attention to detail. Its most distinguishing design features are sleek lines, a hooded nib, and the use of fiberglass in the construction of the barrel. Its sleek lines are the result of superior construction that leave almost no visible seams. The result is a pen that looks as if it has been constructed as a single whole piece. The hooded, platinum-coated, 14-karat gold nib adds a touch of elegance to the design while maintaining this understated appearance. The fiberglass barrel, called Makrolon, offers a natural, comfortable feel that is durable but more comfortable than stainless steel. The Lamy 2000 is one of the only fountain pens on the market to be made of this type of material.
The Lamy 2000 is also designed to be easy to grasp and utilize. For instance, the consistency of the pen, and its lack of seams make it comfortable to hold and less likely to slip. The pen does possess two tabs to hold the cap in place that some consumers find very irritating when they are holding the pen. The feel of these tabs is generally a matter of personal preference, and do not bother all consumers. In addition, the pen provides superior performance, creating a flow that never skips. The one concern regarding the nib is the tendency of some of the Lamy 2000s to hesitate when being used. Nibs that create hesitation for the consumer when being used can be repaired by professionals and provide a pleasing and excellent writing experience.
The Lamy 2000 is ideal for anyone looking for a high-end fountain pen with an understated design. The pen's smooth appearance and top-notch performance means it will look natural at home, in the office, or any place where a subtle appearance but superior design is preferred.
Watch the unboxing of the Lamy 2000 Fountain Pen below: