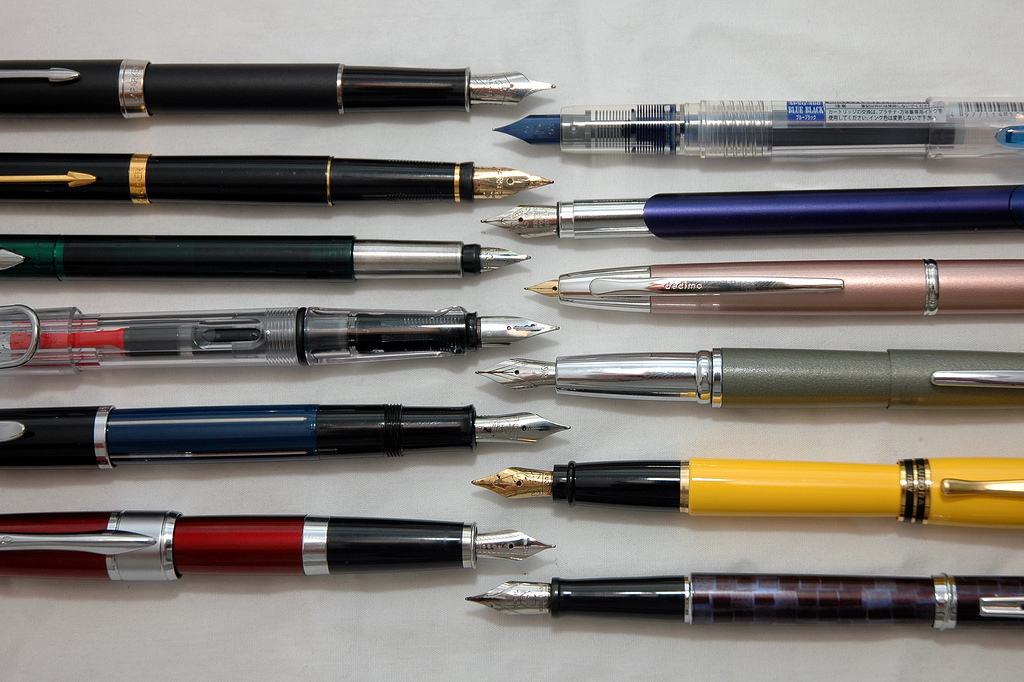 I know, I know! "Best" is such a subjective word. It's cliche and probably overused. When referring to a pen, it could  can be relied upon in an office setting. For others, it is the pen that personifies the characteristics they like to see in themselves. For others, the best pen for them is the one that keeps the most money in their wallet. And then for a VERY elite few, the best pen is that one that actually takes the most out of their bank account. Well we have the best pens for every scenario.
Best for an Office
When purchasing office pens you need to balance cost with performance. You obviously want something that is professional looking, will last a while, and performs well. You don't want to spend too much of the allotted office supply budget on pens either.  Below are some of the best pens for an office setting that walk that line perfectly:~
#1. Uni-Ball Power Tank RT Ballpoint Retractable
$1.52 Each ($18.21/Dozen) 
#2. Pilot G2 Retractable Premium Gel Ink Roller Ball
$1.73 Each ($8.65/5-Pack)
#3. Uni-ball Jetstream RT Bold Point Retractable Roller Ball
$3.98 Each ($11.96/Three-Pack)
~
Top Pens for Writing
Looking for a pen to write with on a regular basis. I'm talking about a real quality writing utensil (not just scribbling down phone numbers). Writing or Desk pens are much more high quality than any other pens. These are pens that are refillable and should last a very long time. They are the type of pen that exudes your sense of style and taste, and these are pens that you do not want to lose. You end up investing a little more in the beginning, but the following pens are more than worth it:~
#1. Parker Sonnet Sterling Ciselé Fine Point Fountain (Gold Trim)
 $249.99 Each

#2. Pilot Vanishing Point Retractable Fountain
 $137.95 Each

$128.99 Each
Many of you probably don't care to spend a bucket load of cash on simple pens for day to day use. You want something that works, but if you a lose a few pens (or more) – eh no biggie! Below are a few of the best deals on pens around at an economical price:
#1. BIC Round Stic Ball
$0.09 Each ($5.29/60-Pack)
#2. BIC Cristal Stic Ball 
$0.14 Each ($1.71/Dozen)
#3. Paper Mate 1.2 Stick Ballpoint
$0.30 Each ($3.00/10-Pack)
Admit it you're just a little curious as to far some people are willing to go to purchase pen. These pens have class, elegance, "swag," or whatever other classy or urban cliche you want to use. Most of us don't even spend this much on our cars, so prepare yourself for these bling-worthy jaw-dropping pens:~
#1. Montegrappa Chaos Special LE Gold Rollerball

$69,350.00

#2. Omas LE Phoenix Plated Fountain w/ Diamonds
$48,000.00
#3. Visconti The Golden Man HRH LE Fountain
$44,000.00
Don't forget to check out our other review and comparison articles for the best pens in the world! Also if you are a writer check out these available resources!