With 2015 drawing to an end, and 2016 just around the corner is, the best fountain pens are still the hipsters of the world of writing utensils. They were pens before it was cool to be a pen. They existed before there were cheap disposable Bics or Papermates that you could lose every few a day and not really care. In fact there is a lot of interesting history surrounding them.
REVIEW: FOUNTAIN PENS PICKS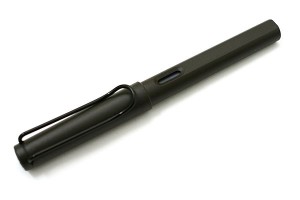 We (along with thousand of pen enthusiasts) have decided that the top fountain pens listed above are among the highest caliber of writing utensils available. We've tried to balance both quality and affordability in our selection above. Before getting into the "more expensive pens" we want to mention that if you don't have a bunch of money to spend, then the Lamy Safari pen may be best for you. You can read our full review of the Lamy Safari here.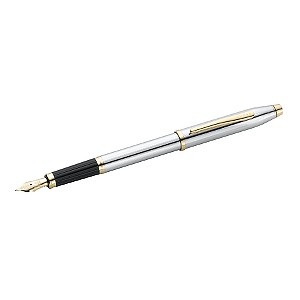 Cross has been in the game for almost 200 years, and boasts the title of America's oldest pen manufacturer. Their experience and innovation in the world of fine writing instruments certainly has paid off. Costing less than $100, the Century II is based on the earlier Classic Century, but this most recent incarnation takes the design and ink flow to a whole new level. It is available in Black or the flashier Platinum color. The steady ink flow holds reliable for any writing speed, and is a great choice for even the fastest of writers. This also makes this a great choice for those who use fountain pens for more than just everyday writing. The pen's 23-karat gold nib gives great flexibility and more control to writers than did it's predecessor. It's features combine to give it the look and feel of a 21st Century pen with the feel and performance of a timeless piece. If your looking for reliability and versatility, then this may be the right fountain pen for you. Click here for a full review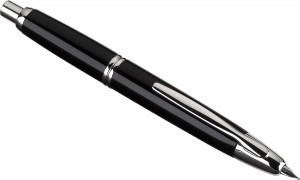 Pilot is well known for making quality lower-end pens, but their higher end work often gets overlooked. This pen holds the coveted title of best fountain pen under $200, while also adding a new level of ingenuity to the design, being one of the only fountain pens with a retractable nib (which can be a huge plus for protecting and maintaining nib integrity). Normally we think of retractable pens as being cheaper, but erase that mindset when considering this pen! Aside from the built-in nib protection and manufacturing quality, this is an item there is a level of customization that is not available with others on the list. There are 23 different colors and finishes to choose from! Not only this, but most color finish also have the option of choosing 3 different nib widths (Broad, Fine and Medium). Setting aside the fact that each user can choose a configuration that best matches their personality and writing needs, we must remember that beauty is only skin deep. So how well does it perform? With tag lines like "A dream to write with," "Bliss," and "Amazing Click Fountain Pen" it's not hard to see why the Pilot Vanishing Point is one of the top rated writing instruments on the market today. Click here for a full review
Full disclosure, the Namiki series is actually also manufactured by Pilot, giving them the advantage of having two different pens on our recommended list. In fact, (fun tidbit) the Namiki series was named after one of the founders of Pilot Pen Corporation, Ryosuke Namiki. While not as flashy as some other styles we've seen, the Falcon has a classic elegant look that we've seen with other utensils in this same line. This pen is sensitive to the writer's touch and aims to cater to each stroke. It's 14k gold nib is precise in its design, but also has a soft flexible feel that writing flows smoothly. Speaking of flow, the ink feed on the Namiki Falcon is flawless. You will experience no interruption in ink flow, even when intentionally trying to do so. The pen does expel a little more ink than other pens might, and while we feel this adds to the overall experience of writing with it, we recommend using it on stationary or thicker paper as the possibility of "bleed through" will be more substantial with thinner paper. Overall the Namiki Falcon is a pleasure to write with and we're confident you'll find yourself coming back to it over and over if added to your collection. Click here for a full review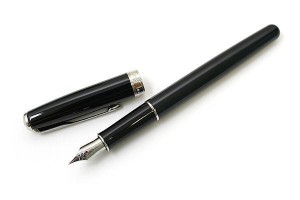 Parker Pens is always one of the first names mentioned when speaking of high quality writing and drawing utensils. The Sonnet is one of their most popular pieces, and upon first glance it's not hard to see why. The pen design exudes a classic professional feel. It is available for purchase with either an 18 karat gold or stainless steel nib. Ink flow is incredibly stable which makes the Sonnet the perfect fountain pen for drawing and writing on a multitude of different writing surfaces from thick stationary to a thin napkin. Weighing in at .9 ounces, it the medium weight for a pen of this caliber, and it's also perfectly balanced. It is comfortable in the hand, and can be used at length without premature hand fatigue. With it's steady ink flow, ability to handle multiple writing canvases and comfortable hold, it is the ideal pen for those who find themselves needing a high quality fountain pen for heavy usage throughout the week. Students, professors, and business men who handwrite notes or sign documents on a frequent basis would do well to seriously consider this superb pen. Click here for a full review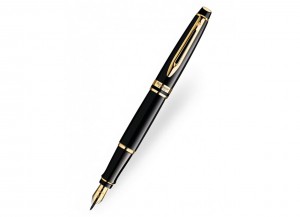 No list of the "Best Fountain Pens" would be complete without a Waterman. Another classic looking pen from one of the oldest players in the game, Waterman, which was founded in the late 1800s by Lewis Edson Waterman. One of the distinguishing features of this piece is it's cigar shape, which sits a little heavier in the hand than most of the others on this list. This bit of extra weight makes it a bit easier to hold in the hand. As can be expected, it is well crafted and is designed to last a lifetime, and carries with it a three year warranty (one of the longest in the industry).  It was designed with elegance in mind and the dark glossy black lacquer finish contrasting with gold trim, oozes with "classiness." This pen makes a great instrument for businessmen and would make a great gift for an upper level executive, and would look great on any hardwood office desk. However, it's a good enough deal that you won't break the bank making it the best inexpensive fountain pen for the money. Click here for a full review
These pens are the direct predecessor of the dip pen, the first "real pen." Before them feather quills were used for centuries. The big difference between the dip pen and the fountain pen is that the fountain pen was the first writing utensil to have an internal supply of ink, making it still both an elegant and practical writing instrument.