As part of Kaweco's Sport line of fountain pens, the Kaweco Classic Sport is a small, portable pen that comes with lots of options from which consumers can choose. The quality and customization available with the pen just reflects the long experience of the 130-year-old Kaweco brand, while offering consumers a modern look and performance. The result is an appealing entry-level pen suitable for any type of on-the-go writing situation.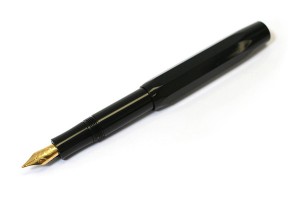 Specs
Weight: .3 ounces
Dimensions: 4.3 in. x .8 in. x .8 in.
Nib size: Extra fine, fine, medium, bold, extra bold
Nib material: Stainless steel with 22 karat gold plating
Ink refill: Cartridge
Detailing: Eight-sided cap, gold-plated nib, gold-colored branding
Ink color: Black
Pen color: Black, Black Guilloch 1930, Blue, Bordeaux, Clear, Green, White
Packaging: Gift box
The Kaweco Classic Sport is one of Kaweco's line of pocket pens. Marketed as "small in the pocket, great in the hand," this pen is very short, at just over 4 inches, but posts to a longer and more comfortable length of just over 5 inches. The result is a pen that fits easily and unobtrusively in the pocket, while being a relatively comfortable length to hold in the hand, provided the consumer posts the cap before writing. While the pen length does lend itself to comfortable writing, the grip is not ideal, and the diameter of the pen is very narrow, making the pen difficult write with for long periods of time. The pen is also designed to be fashionable, reflecting a design that has withstood the test of time since it was introduced in 1935.
The Classic Sport boasts a number of choices for the consumer. It comes with a removable clip and many choices for nib sizes. Consumers can choose any nib size from extra fine to extra bold, allowing them to pick the nib that will give them their ideal writing experience. The only truly inconvenient aspect of the pen is the fact that does not take a converter for ink refills, because it is too short to accommodate converters of any size.
The Kaweco is an ideal entry level pen for anyone looking for a portable pen for on-the-go use. The pen is perfect for transporting, but its small size and narrow diameter make it hard to use for extended lengths of time. As a result, it is ideal for taking notes or other quick writing scenarios.