Built with practicality and ease of use in mind, the Pilot Vanishing Point retractable fountain pen possesses one of the most unique designs on the market today and for that reason you can find it on our list of the Top Fountain Pens. The retractable nib and reverse positioning of the clip prevent leakage, add to its appealing style, and make it easy to carry. In addition, its beautiful appearance and balanced weight make it a pleasure to both look at and use.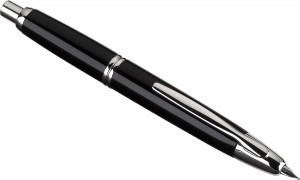 Specs
Model number: 60242
Weight: 3.2 ounces
Dimensions: 6 in. x .5 in. x .5 in.
Colors: 23 different colors and finishes to choose from
Nib size: Available in Broad, Medium, & Fine
Nib material: 18 karat gold
Nib type: Retractable
Ink refill: Cartridge and CON-50 twist piston converter, included with purchase
Detailing: Rhodium (Picture), Matte, and may other different accents available
Ink color: Black
Packaging: Gift box and an elegant case
The most unique features of the Pilot Vanishing Point retractable fountain pen—its retractable nib and reverse positioned clip—also make it supremely practical. The nib is unmatched among fountain pens. Being able to control it with a button at the top of the pen allows the consumer to prevent leakage from the pen and safely store it in a pocket or purse when traveling.
The reverse positioned clip is located at the same end of the pen as is the nib. The result is an upward-facing pen when it is clipped to a pocket or pad of paper, making it virtually impossible for the ink to spill out of the pen when it is being carried. The only downside to this design is that the clip can get in the way of the consumer's hand if the pen is not held properly.
Besides the nib and the clip, this Pilot boasts a balanced weight and beautiful appearance that make it comfortable and appealing to use. The pen is designed to feel weighty but not heavy in the hand and to provide the perfect balance to make writing easy. It is extremely customizable when compared to other pens in this range, offering 23 different colors/finishes to choose from. With the availability of options you can easily find a style that fits your personality and writing environment. In addition, the optional rhodium accents, thicker body, and smooth lines make the pen a beautiful as well as a practical instrument.
This pen is ideal for anyone who wants to write on the go. Whether a businessperson who wants a fine pen to use while traveling, a student who needs it while studying in cafes and libraries, or any other writer who travels frequently, each one can benefit from the usability, practicality, and beauty of the Pilot Vanishing Point retractable fountain pen.
For more information about the Pilot's Vanishing Point check out the following unboxing and review video: