The Waterman Phileas fountain pen is a solid basic fountain pen. Ideal for newcomers to the world of fountain pens, it provides a reliably smooth writing experience, a light, attractive design, and a low price. The combination of these features result in an appealing, basic pen for anyone looking to enjoy the advantages of a fountain pen without the financial investment that higher-level pens require.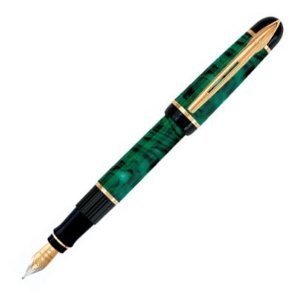 CLICK FOR CURRENT PRICES/DISCOUNTS
Specs
• Model number: 19704W3
• Weight: 4 ounces
• Dimensions: 9 in. x 5 in. x 2 in.
• Nib size: Fine or medium
• Nib material: Stainless steel or 23-karat electroplated gold
• Detailing: Plastic construction; contrasting trim rings, trim details on cap
• Ink color: Black or blue
• Pen color: Red, green, black, or blue
• Ink refill: Cartridge or converter
WATERMAN PHILEAS REVIEW
The Waterman Phileas is an entry-level fountain pen designed to offer fountain pen beginners a reliable, easy-to-use pen for a relatively affordable price. As a result, it boasts an attractive, but low-cost design. Constructed almost entirely of plastic, with a brass insert near the barrel, the pen is relatively lightweight and lacks the stately feel of heavier pens. However, what the weight lacks in grandeur it makes up for in practicality. The Phileas is easy to use, balances well in the hand, and allows even small-handed consumers to write for long periods of time without experiencing hand fatigue. The pen is also nicely-sized at about 5 inches. The length allows it to fit comfortably in the hand, even when the cap is posted. The result is a pleasant, practical feel and a comfortable writing experience. The rest of the pen's design includes tasteful trim details, a nib that can come plated in 23 karat gold, and simple details that, though not fancy, do provide an appealing look to the writing instrument.
The performance of the Phileas is where this pen really stands out. Many entry-level fountain pens bring a certain level of scratchiness and/or skipping to the table. The Phileas, however, writes exceptionally smoothly right out of the box. Consumers report no skipping or scratchiness whatsoever when using the pen, even after subjecting the pen to less than ideal conditions. Even when left uncapped for longer periods of time, or being left unused, the Phileas performs reliably when used again. In addition, the pen's nib lays down a smooth, beautiful line that is neither too wide nor too narrow for the size of the nib. As a result,
the writing experience with the Phileas
is extremely rewarding and pleasant, and mimics the writing experience of more expensive pens.
Because of its exceptional performance and appealing, simple design, the Phileas offers a pleasant writing experience for anyone who is just taking up fountain pen writing. Its inexpensive price makes it a low-risk investment for those who have never owned a fountain pen. In addition, it is suitable for anyone who is looking to write consistently or frequently, and therefore needs a pen that will perform reliably and feel comfortable even after a significant amount of writing.