The Lamy Joy fountain pen is the cousin of the Lamy Safari. Boasting the durable build and same beautiful design as Lamy's other pens, the Joy stands out because of its extra wide nib. The 1.1mm nib offers the consumer the opportunity to add a splash of calligraphy to their writing. In addition, the pen comes in at less than $50, allowing consumers on any budget to afford a beautiful calligraphy pen to add to their collection.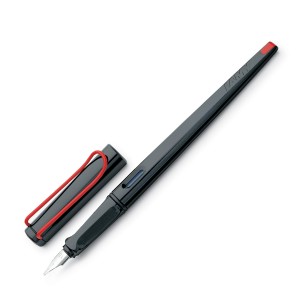 CLICK FOR CURRENT PRICES/DISCOUNTS ON AMAZON
Specs
• Manufacturer's part number: LMY_1.1MM
• Price: Around $30
• Weight: .8 oz.
• Dimensions: 9 in. x 5 in. x 2 in.
• Nib size: 1.1mm, 1.5mm, 1.9mm
• Detailing: Black with red highlights, ink level window
• Material: Plastic
• Ink color: Black
• Pen color: Black with red highlights and clip
• Nib material: Stainless steel
LAMY JOY REVIEW
Admirers of the Lamy Safari may also enjoy the related Lamy Joy. This beautiful and inexpensive pen bears similarities to the Safari, primarily in its design. For instance, like the Safari, it bears an elegant and simple design. Longer than the average fountain pen, it is approximately 9 inches long. Its thin shape and elongated body create an elegant shape that belies its inexpensive price tag of around $30. The pen also possesses red highlights along a black body to deepen the sense of simplicity and beauty, just as the Safari's body and clip create an elegant feel. The only downside to the Joy is that some consumers may find the body to be too long for their taste, especially when needing to carry the pen around.
The Lamy Joy stands out from the Safari because of its nib, which is designed as a calligraphy nib. Even for consumers who do not specifically practice calligraphy, the Joy is reported to improve writing, making it smoother, bolder, and more attractive. The Joy comes with a choice of three nib sizes: 1.1mm, 1.5 mm, and 1.9mm. The 1.1mm, while reported to be a bit too narrow to create true calligraphy, adds boldness and elegance to the owner's writing. These stainless steel nibs are reported to write smoothly and perform well for a pen in the inexpensive price range. The downsides that the nibs present is a tendency to hesitate after having been left lying uncapped, even for a short time. In addition, the Lamy Joy does not hold a lot of ink and therefore needs to be refilled fairly frequently.
The Lamy Joy is a good choice for consumers who are looking to improve the appearance of their writing, or who are looking for a reliable calligraphy pen. Because the Joy is so inexpensive, it makes an especially good choice for anyone looking to purchase a reliable and low cost pen without compromising appearance. The Lamy Joy may also work better for consumers who are not looking for an everyday pen. Instead, because it runs out of ink relatively quickly, it may be easier to use as an occasional pen, reserved for those times when the owner wishes to create particularly good handwriting.