The basic look and function of the Lamy Safari fountain pen masks its far from basic performance among pens in its price range. This piece is actually featured on two different "Best Pens" lists that we have put out, both the "List of Top Recommended Fountain Pens" (as the economy choice) and our "List of Top Fountain Pens Under $50". This excellent starter pen boasts a sturdy, well-built body, reliably performing nib, and an ease of use that will make even the newest beginning writer feel comfortable. In addition, its large ink capacity and converter option make it a long-lasting and flexible writing instrument for any writer.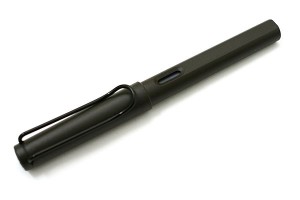 Specs
Weight: 1 ounce
Model number: L17F
Dimensions: 8.3 in. x 7.5 in. x 1.2 in.
Nib size: Fine
Nib material: Stainless steel
Ink refill: Converter or cartridge
Detailing: Extra wide clip, defined grip area, black coating on nib
Ink color: Black or blue
Pen color: Black
Included items: Blue cartridge
The Lamy Safari fountain pen is ideal for writers just starting down the path of fountain pen ownership. It possesses a basic but sturdy appearance, with a solid ABS plastic body, plain stainless steel nib, and large clip. Its hand grip allows the user to more comfortably and correctly grasp the pen while writing, although this grip can be uncomfortable for left-handed writers. Its appearance, however, belies the strong performance of this pen. It is built to withstand steady writing, and possesses a nib that writes smoothly. This nib, though wet, will not skip and can handle a variety of paper types, making it easier for new writers to use as they grow accustomed to writing with the steady flow of ink provided by a fountain pen.
This pen is also very easy to use and maintain. Its extra-large ink capacity means that it will last longer between ink refills. When it is time to refill the ink, taking the old cartridge out, or refilling the converter is a simple process. In addition, the pen is very easy to clean out with water when necessary, saving the user the time and hassle created by more complex writing instruments.
The basic design, inexpensive price tag, and ease of use of the Lamay Safari fountain pen make it the perfect beginners' pen. Anyone wishing to learn how to use a fountain pen will find their introduction into the fountain pen world eased by this writing instrument. From learning how to change cartridges or fill converters, to learning how to write with a fountain pen, to learning how to maintain the pen, beginners will find an easy, yet appealing teacher in the Lamy Safari.