Disposable and extremely inexpensive, the Pilot Varsity (also known as the V-Pen) still offers consumers a reliable introductory fountain pen for a killer price. While not quite top-of-the-line material, this pen does offer all of the basics needed in a fountain pen at $3 or less each. Keep in mind that this economic fountain pen can be refilled, it comes with a real nib, excellent ink flow and has a pleasing appearance that makes it feel a bit more expensive than it actually is.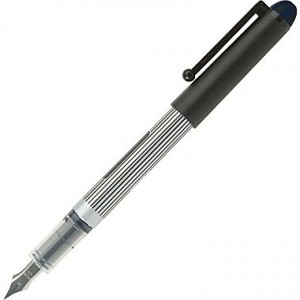 Specs
Model number: SV4B-BLK
Weight: .5 ounces
Dimensions: 5.4 in. x 3.1 in. x 1.2 in.
Nib size: Medium
Nib material: Stainless steel
Ink refill: Disposable
Detailing: Branding on body , color-coded tips, painted design on body
Ink color: Black, purple, red, green, blue, turquoise, pink
Pen color: Black
Number of items: Seven
The disposable Pilot Varsity does not feel or look disposable. This introductory fountain pen, which comes in packs of seven, boasts a fountain pen medium size nib, a plastic body with silver and black designs, and a window through which the user can view the ink level. In addition, it does not write like a disposable pen. Its ink flow is extremely reliable and virtually never skips, scratches, or starts slow. The only downside to the ink flow is that it is very wet, and therefore bleeds through almost every kind of paper.
While the Varsity's barrel does not come completely filled with ink, it does provide more ink per pen than does a typical cartridge or even converter. The result is a pen that will give the user significant mileage before needing to be thrown out. In addition, this pen can be refilled, with a little work and creativity, for consumers who wish to hold onto the pen. The medium size nib generally works well for most consumers' writing needs, though may prove to be too wide for anyone who enjoys a very fine nib. The result is a pleasing pen that is extremely affordable.
The Varsity is the perfect pen for anyone wishing to try out fountain pens without a great deal of commitment. At a price of just a few dollars each, the Varsity allows beginners to purchase and use a fountain pen without needing to spend a lot of money. As a result, they can enjoy learning about the fountain pen and how to use it before moving on to more expensive items.