Coming straight off our list of top cheap fountain pens, the Pilot Metropolitan combines excellent value with an unbelievable price. The entry-level, medium nib fountain pen offers an exceptionally smooth stainless steel nib, beautiful plastic and metal body, and small details that make it easy to use and appealing to look at. The pen offers all of these features for less than $25, making it one of the most outstanding beginner pens on the market.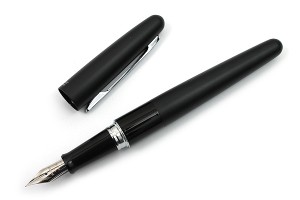 Specs
Model number: 91107
Weight: 3.2 ounces
Dimensions: 5.8 in. x .5 in. x .5 in.
Nib size: Medium
Nib material: Stainless steel
Ink refill: Converter or cartridge
Detailing: Designs on the nib, stainless steel clip, black matte finish
Ink color: Black
Pen color: Black
Packaging: Gift box
Included items: Converter
The Pilot Metropolitan stands out from other entry-level pens because of its combination of an exceptionally low price and exceptionally high quality. This pen is generally available for about $15, making it one of the most inexpensive pens available. At the same time, its nib, feel, and appearance far exceed the features of pens that are far more expensive. For instance, the stainless steel nib writes very smoothly, without scratchiness. Although the nib may skip on certain types of paper, it provides an overall pleasant writing experience that is reminiscent of a more expensive writing instrument. The only downside of the nib is that it is only available in the medium size. In addition, the tapered shape makes holding the pen more comfortable, and the brass barrel provides a comfortable weight for writing.
The Metropolitan's high quality includes not only the nib and writing experience but also its appearance. This fountain pen has a brass nib that adds weight, comfort, and elegance to the pen. In addition, the stainless steel clip offers a pleasing contrast to the black matte finish of the rest of the pen. A design on the nib completes the elegant look. The only downside to the overall look and feel of the pen is a sharp edge where the barrel and the body of the pen meet that can be uncomfortable for some consumers.
The Metropolitan is perfect for beginners looking to enter the fountain pen world. Its inexpensive price make it an affordable investment for those who are trying to figure out whether they enjoy using fountain pens. This pen is also ideal for anyone looking for a fountain pen to use every day, because its low price and high quality make it a sound and easy investment.