The Pilot Parallel fountain pen boasts a unique, parallel-plated nib that makes it easier to create beautiful calligraphy. In addition to its one-of-a-kind nibs, this pen offers consumers the ability to be more creative and write with gradients, all for a relatively low price. The result is an inexpensive but useful pen that can help beginning calligraphers master their craft.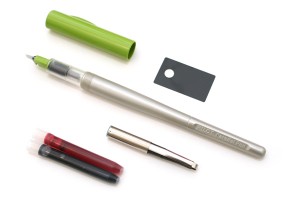 Specs
Model number: P900
Weight: .35 ounces
Dimensions: 8 in. x 2 in. x 2.5 in.
Nib size: 1.5mm, 2.4mm, 3.8mm, 6mm
Nib material: Stainless steel
Ink refill: Cartridge/converter
Detailing: Nib size printed on cap, gray body with colored cap
Ink color: Varied
Pen color: Gray with red, blue, orange, or blue caps, depending upon nib size
Included items: Two ink cartridges, nib cleaner, metal cartridge for cleaning, calligraphy instructions
The Pilot Parallel is designed to make calligraphy easy, even for beginners. This pen stands out from the competition because of its nibs, which consist of parallel plates that allow the user to create wide or thin lines and provide a clearer writing style than other calligraphy pens. These nibs do create a wetter flow than other types of nibs, which causes significant feathering and bleed through on inexpensive types of paper. As a result, they require the consumer to use high quality paper when writing with these pens. Another appealing feature of the Pilot Parallel is the ability it offers consumers to mix inks. By purchasing more than one pen and touching the nibs together, the consumer can create gradients in their writing that adds beauty to the lettering.
The Pilot Parallel also boasts a pleasant appearance, with pen caps color coded to the size of the nibs and a cap that is easy to screw on. The downsides to the pen, however, include a cap that cannot be posted and the use of cheap plastic that reflects the inexpensive price of the pen overall. The pens are comfortable to hold, with a thicker diameter along the grip where the hand rests. The result is a pen that is comfortable to use, and that provides a relatively easy way to create beautiful lettering.
The Pilot Parallel is ideal for anyone interested in calligraphy, and is especially suited for beginners in the craft. The instructions in calligraphy allow new users to learn the basics of the craft. In addition, the parallel-plated nibs make it easier to create clean lines of varying widths even for the inexperienced consumer.