The Pilot Prera is a small pen with a lot of personality. This entry-level pen (coming from our list of cheap fountain pens under $50), boasts not just a unique design, but also a  compact size, an exceptionally fine nib, and solid performance. The combination is that of one-of-a-kind appearance and strong performance make it an appealing choice for beginners and a fascinating option for fountain pen enthusiasts of all kinds.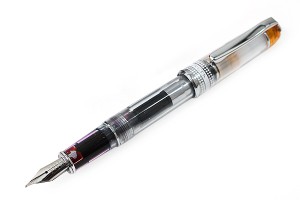 Specs
Model number: 60810
Weight: 3.2 ounces
Dimensions: 7.8 in. x 2.1 in. x 1.2 in.
Nib size: Extra fine, fine, medium
Nib material: Stainless steel
Ink refill: Converter or cartridge
Detailing: Designs on the nib, clear body, choice of seven trim colors
Ink color: Black
Pen color: Clear
Included items: Converter
The design of the Pilot Prera is the first thing consumers will notice about this inexpensive fountain pen. The demonstrator model boasts a clear body that allows the user to see the inner workings of the pen. The design is completed by the addition of one of seven colors at the pen's base. In addition, this pen is smaller than its peers. Its compact size may appeal to smaller-handed writers, but make it hard to hold for those with larger hands. Posting the cap can help to alleviate the discomfort of the Prera's small size for those who prefer a more average-sized writing instrument.
The Prera also stands out from its peers because of the size of its nib. The nib is available in extra fine, fine, or medium sizes. However, the nibs for this pen are significantly finer than the same-sized nibs on other pens. The result is extremely thin nibs that make for very fine writing, even in the medium size. The fineness of the nib may pose a problem for consumers who press hard on the paper when they write, but produce a style of writing that should appeal to anyone who enjoys a fine nib and thin lettering.
The Pilot Prera, because of its small size, is ideal for consumers with smaller hands. Because of its fine nib, it also works better for consumers who use a lighter grip, so as not to restrict ink flow through the already small point. The pen is also a good choice for beginners, because of its inexpensive cost and ease of use that make it a good introduction to the basic features available in fountain pens.