Manufactured by Pilot and coming from our list of best cheap fountain pens, the Plumix isn't just an unusual and inexpensive fountain pen, but one of the best fountain pens available for less than a $50 price point. Its unique design distinguishes it from more standard pens, and its italic nib makes it ideal for quality writing that is both fun and different. This combination of creative design and nib make it an appealing choice among the less than $10 group of fountain pens.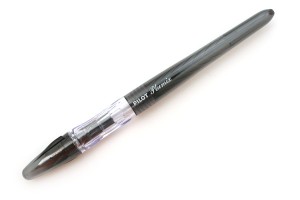 Specs
Model number: P0055
Weight: .3 ounces
Dimensions: .6 in. x .5 in. x 5.9 in.
Nib size: Medium italic
Nib material: Stainless steel
Ink refill: Cartridge
Detailing: Barrel color, clear body, Nib size printed on cap, gray body with colored cap
Ink color: Blue
Included items: Blue ink cartridge
The Pilot Plumix boasts a number of features that make it an unusual and endearing pen. For instance, it boasts a short cap that is just large enough to fit over the nib. In addition, the pen's body is clear, allowing the consumer to view the ink level. The design is completed by a barrel that comes in a variety of colors, including black, blue, and purple. The one downside to the design of the pen is the existence of a thicker area on the barrel, which can create some hand fatigue in the user. Overall, however, the result of the Plumix' design is a pen that is easy to identify and sure to draw attention whenever it is used.
In addition to its design, the Pilot Plumix stands out because of its nib. This pen boasts a medium italic nib, rather than the more traditional regular nib. The italic nib offers consumers more than just a square appearance. Instead, the nib's square lines mean that it can be used to draw either wide lines or fine lines, depending upon which edges of the nib are used on the paper. In addition, the italic nib is designed to offer a smoother ink flow. The nib does tend to be a dryer writer than other types of nibs. In addition, the square shape of the nib makes it more vulnerable to scratchiness and catching on the paper. It performs better on more expensive paper.
The Pilot Plumix is ideal for consumers who want to create appealing lettering without spending a lot of money. The pen's italic nib makes it easier to create smooth, sharp lines and beautiful writing, while the pen itself comes in at less than $10. The result is a pen that should meet the needs of anyone looking to improve the appearance of their writing without breaking the bank.