The Lamy Al-Star fountain pen is the next step up from the well-regarded and popular Lamy Safari. With its aluminum body, stainless steel nib, smooth ink flow, and sharp design it's not hard to see how it easily makes our list of the best cheap fountain pens. The aforementioned features set it apart as a very appealing entry-level pen. Its combination of a pleasing look, relatively durable body, and low price point make it ideal for anyone looking for a sound basic fountain pen to use, especially those just starting out with fountain pens.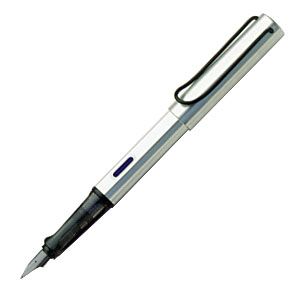 Specs
Model number: L25F
Weight: .8 ounces
Dimensions: 6.1 in. x .4 in. x .4 in.
Nib size: Extra fine, fine, medium
Nib material: Stainless steel
Ink refill: Cartridge/Converter
Detailing: Translucent grip, chromium-plated nib, window for viewing ink levels, Lamy grip
Ink color: Black
Pen color: Black
Body material: Aluminum
The Lamy Al-Star improves upon the Lamy Safari with an aluminum instead of a plastic body. This change in material lends a higher-quality feel to the pen, though it can wear down relatively quickly if used hard. In addition, the pen's chromium-plated nib and see-through grip give it an elegant appearance that belies its inexpensive price tag. Besides these differences, however, the Al-Star possesses most of the features of the Safari, such as the unique grip. This grip This grip works only when used with a standard grip, and can be very uncomfortable for anyone who uses anything other than the traditional hold with the pen.
Besides its improved appearance, the Al-Star also provides an improved performance over the Safari. While the Safari sometimes skips or starts slow, the Al-Star offers a steady performance from the very first use. The nibs themselves provide an average ink flow, but offer the advantage of being able to be replaced with nibs of different sizes so the consumer can choose the nib size that works best for them. The window in the pen allows the consumer to track how much ink is left in the pen. The result is a fashionable, reliable, and affordable pen.
The Al-Star is ideal for beginning fountain pen enthusiasts who have tried disposable or other cheap pens and are ready to move to the next level in the fountain pen world. It is also a good choice for those who write with a standard grip instead of a different kind of hold, and who are willing to settle with an average instead of outstanding ink flow.