The Parker IM fountain pen is all about a modern look and a performance that belies its inexpensive cost. At first glance, you'd never guess that this is fountain pen available for under $50. Let alone that it's prices was close to $25 than $50. With gold trim and a stainless steel nib, Parker has done a great job with this piece creating an option that looks like a high end pen, but really is just a great value pen available for a low price.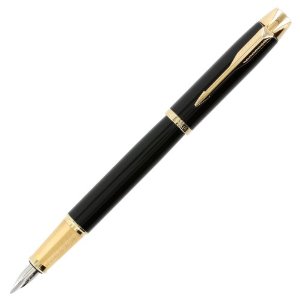 Specs
Model number: P0055
Weight: 3.2 ounces
Dimensions: 7 in. x 2.8 in. x 1.5 in.
Nib size: Medium
Nib material: Stainless steel
Detailing: Black lacquer finish, brass barrel, chrome highlights, stainless steel clip, branding on barrel
Ink color: Black
Pen color: Black
Ink refill: Cartridge
The design of the Parker IM is elegant and upscale, even though its price is less than $30. The pen is characterized by a black lacquer finish and silver trim that give the pen a professional feel. The weight of the metal used to construct the pen also give it a more comfortable and pricey feel. The pen's design also makes it comfortable to hold, and small details like a firm cap and classic Parker clip add to its overall pleasing look. The only downside to the appearance is the chrome on the trim that can look less than elegant.
While the Parker IM looks professional and elegant, it is also sturdy and writes reliably enough to make it worth its asking price. The metal in the pen translates into a more durable writing instrument, as well as greater comfort for the user while they write. The IM possesses a small nib that still manages to provide a relatively wide line. The nib is slow to start writing on first use, and needs to be left alone after filling to give the ink time to transfer to the nib. However, after getting started, the nib writes consistently and smoothly on most types of paper.
The Parker IM is ideal for anyone wanting to purchase a professional, appealing pen without spending a lot of money. They can enjoy a pen that they can easily display on their desk, use at a business meeting, or bring out at a conference because of its sophisticated appearance. At the same time, the pen's steady performance and inexpensive price make it a practical as well as an aesthetic choice.