The Lamy Vista is the demonstrator version of the well-regarded Lamy Safari. While possessing much of the Safari's design and performance, this version boasts an inexpensive price point, durable construction, and reliable ink flow that make it an excellent value. The ease with which it allows users to clean it and swap nibs in and out also make it a good choice for beginners looking for an easy-to-maintain fountain pen.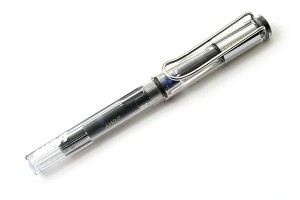 Specs
Model number: L12M
Weight: 4 ounces
Dimensions: 9 in. x 6 in. x 2 in.
Nib size: Will take Lamy nibs of any size
Nib material: Stainless steel
Ink refill: Cartridge/converter
Detailing: Clear body, stamped with brand name
Ink color: Blue
Pen color: Clear
Pen material: ABS plastic
Packaging: Plastic box
The Lamy Vista offers consumers appealing features for a low cost. The pen, first, is made of ABS plastic, which is known for its durability. The result is a pen that can take the abuse of everyday use and of being transported from one place to another. In addition, the transparent body allows consumers to see the inner workings of the pen and provides a sophisticated look. The clip secures the pen firmly to whatever it is hooked onto, also making it easy to carry from place to place, and the nib offers a consistent ink flow that is not affected by long periods of disuse.
One of the most attractive features of the Lamy Vista is the fact that it makes it easy to swap Lamy nibs in and out. The pen can take virtually any Lamy pen. In addition, switching the nibs in and out is very easy, even for beginning fountain pen enthusiasts, requiring the consumer only to pull the old nib out and put the new nib in. The result is a durable, easy-to-use pen that gives the consumers the flexibility to choose exactly the type of nib they prefer. In addition, this feature makes it easy to replace broken or defective nibs without having to replace the entire pen.
The Lamy Vista is the ideal pen for students or others who desire an inexpensive, durable, and portable pen. It can withstand the nomadic lifestyle of students, and will hold up under the abuse of being thrown on surfaces, into book bags, and into pockets. In addition, its low price and ease of use make it an attractive pen for those on a tight budget and those who are just beginning to learn how to use fountain pens.