The Parker 51 fountain pen is a time tested classic, and a much-loved collector's item. These vintage pens were produced for more than 30 years to exceptional reviews, and remain a desired item for pen enthusiasts of all kinds. Known primarily for its beautiful design and reliability, the Parker 51 is the ideal pen for anyone looking for a proven, classic, and gorgeous addition to their fountain pen collection.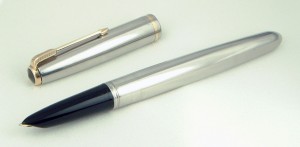 Specs
• Model number: Parker 51
• Weight: 2.1 ounces
• Dimensions: 5.5 inches without cap, 6 inches with cap
• Nib size: Fine
• Nib material: Stainless steel or 14 karat gold, depending upon the model
• Detailing: Hooded nib, contrasting silver and black on cap and barrel, imprinted Parker brand, jeweled cap (and sometimes jeweled barrel as well)
• Ink color: Black or blue
• Pen color: Black and silver
• Ink refill: Aerometric
• Included items: Elegant box
The Parker 51 fountain pen is a vintage pen that was extremely popular during its manufacturing years and remains a revered standard among fountain pens today. First produced in 1941, its production spanned more than 30 years and millions of pens. The reason for the longevity and popularity of this pen reside in its gorgeous, sleek design that has yet to be replicated by any other pen currently on the market today. This design includes a hooded nib, a beautiful silver and black coloring, and a jeweled cap. Its distinctive design make it one of the most recognizable fountain pens ever to have been produced. In addition to its beauty and classic design, the Parker 51 boasts a high quality of performance. For instance, the nib writes smoothly, without hesitation or skips, right out of the box. Its shape make it comfortable to use and makes it feel natural in the hand. Its durability means that even pens produced years ago and neglected ever since can be restored and used regularly, though the restoration will cost some money and may not be entirely effective for some pens.
The vintage Parker 51 fountain pens come in a variety of models that vary slightly from each other in their design and nib material. For instance, the 51 Special is a less expensive, more basic, version of the standard 51. It possesses a stainless steel nib. The standard, on the other hand, possesses a 14 karat gold nib. Other variations on the pen can include the ink color, jewel on the cap and/or base, among other things. While the value of the pen depends upon the specific variations it possesses, its performance and beauty remain unaffected by the changes, making any version an appealing addition to a fountain pen collection. The popularity of the Parker 51 gave rise in 2002 to a newer version of the pen. This new version, however, lacks the consistent performance of the vintage, making the original versions still the most popular Parker 51 on the market.
The Parker 51 is ideal for anyone who wants to purchase a pen that is both classic and high quality. Its timeless design and highly regarded performance mean that it can be easily used every day by pen enthusiasts, while its classic reputation make it a treasured addition to any vintage pen collection.
Take a closer look at the Parker 51 in the video below: