The Parker Sonnet combines superb performance and a gorgeous design to create a pen that leads the way in the market of top notch fountain pens. This pen stands out from the competition because of its ideal weight, perfect performance, versatility, and sheer beauty. An 18 karat gold nib, and many styles to choose from complete the look of this highly-regarded writing instrument.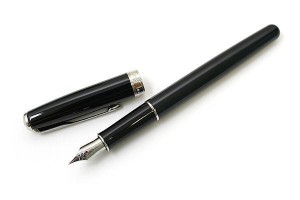 Specs
Model number: 1743579
Weight: .9 ounces
Dimensions: 3.3 in. x 1.6 in. x 6.9 in.
Nib size: Fine
Detailing: 18 karat gold, black lacquer, designs on the nib
Ink color: Black
Pen color: Black
Packaging: Gift box
Warranty: 2 year mechanical failure warranty, 2 year limited materials and workmanship warranty
The Parker Sonnet stands out from the competition in almost every area, from its ideal weighting that virtually eliminates hand fatigue, to its detailed nib and black lacquered finish that create a luxurious look and feel. However, its most appealing features are its performance and versatility. The pen's ink flow is so ideal that it can handle writing on almost any type of paper, from rich stationery to thin newspaper, without ever skipping. In addition, the ink flow is neither too wet nor dry, preventing smudging and bleed throughs while preserving a smooth and pleasant writing experience.
Far from being an ornamental pen, the Sonnet has been created for heavy everyday use. Its medium weight and balanced design allow the consumer to write indefinitely without ever experiencing hand fatigue. In addition, the pen's shape makes it comfortable to hold, also helping to eliminate discomfort even when writing for long periods of time. The steady ink flow minimizes mistakes such as smudging. The only downside to the pen is the sometimes inconsistent performance of the nib. While most of the nibs will write perfectly every time, the consumer may occasionally encounter a nib that requires some coaxing to begin producing a smooth flow of ink.
The Sonnet is perfect for anyone who writes heavily. From students to professional writers, this pen can handle whatever writing demands they place upon it. It is also ideal for use by anyone who writes on the fly and who therefore may end up using different types of paper throughout the day. While other pens may falter at the variety of paper, the Sonnet will handle any type of paper with ease.
Check out the intro video put together by the team over at Parker Pens (Only available in French):