The Parker Urban fountain pen isn't just a cheap fountain pen. It's design is all about a modern look and performance. This pen, which only costs less than most quality fountain pens, boasts a sophisticated design that rivals that of more expensive pens. With a sleek bullet shape, comfortable grip, and versatile nib, the Parker Urban stands out from similarly-priced writing instruments in both appearance and performance. With all of these features, it's a no brainer that this piece is also found on our list of top fountain pens under $50.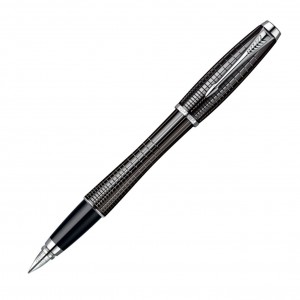 Specs
Model number: 1760841
Weight: 1 ounce
Dimensions: 1.9 in. x 8.1 in. x 10.2 in.
Nib size: Medium
Nib material: Stainless steel
Detailing: Lacquered finish, etched lines along the pen's body, standard Parker clip
Ink color: Black
Pen color: Black, pink, brown, white
Ink refill: Cartridge
Included items: Refill cartridge
Warranties: Limited 2-year warranty
The Parker Urban fountain pen stands out from the competition because of its elegant design that is suitable for far more expensive pens. The Urban's distinguishing design characteristic is a bullet shape, which means that the body of the pen curves out at the bottom and toward the top. The result of this shape are clean, elegant lines that also offer a smooth and comfortable grip and satisfying balance for the user. In addition, the pen boasts small details, such as the etched lines on the body, a lacquered finish, and the standard Parker clip that make it look like a more costly pen. The Urban can sometimes feel too heavy when the cap is posted, but the posting design on the pen reduces the weight of the cap significantly enough that it can be used for longer writing sessions without too much discomfort.
The nib on the Urban also sets this pen apart from the competition. The stainless steel tip is easy for either right-handed or left-handed consumers to use. In addition, it performs well, offering an immediate flow of ink and a smooth writing experience. The nib's ink flow is relatively wet, which can lead to bleed through on certain types of paper, but does not generally skip while writing, making the writing experience easier for the user. The result is a beautiful pen with a pleasing performance for a relatively low price.
The Parker Urban is ideal for anyone wanting to obtain a professional-looking and reliable pen without spending a lot of money. The Urban's sleek appearance and steady ink flow through the nib make it ideal for everyday use in a professional or corporate environment and will add a touch of sophistication to any environment.